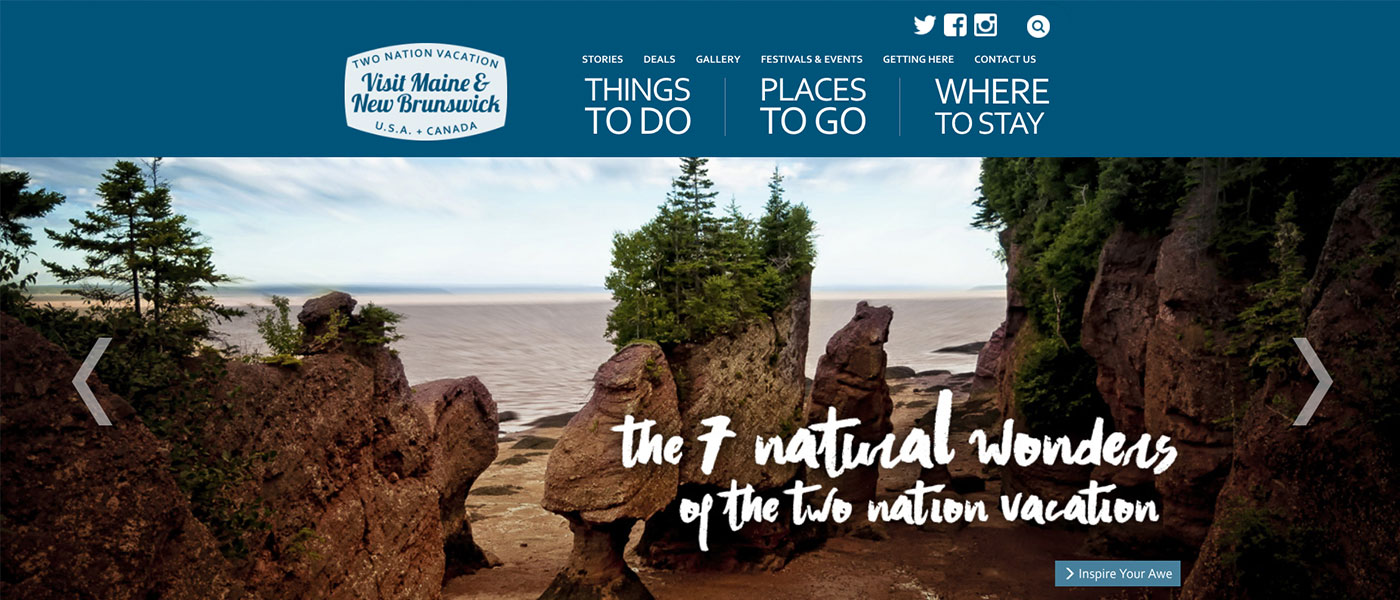 Two Nation Vacation
This project is a joint venture between Tourism New Brunswick, and Tourism Maine. Our team was brought in on this project to migrate the site in to a usable form. 
Agency Engagement - Reeling in Drupal
We worked with the agency's original designs and some tweaks within to create an easy to use interface making the process of managing content, and posting new offerings a cinch. After our team analysis was performed, we quickly went to work rebuilding the platform in a more cohesive manner, taking advantage of robust modules, and content management patterns. We removed the need for content administrators to know anything about HTML and just simply focus on publishing content that makes sense.
3rd Party API Integrations with Drupal
The site features some custom integration work with Instagram, and Storify to help provide robust social content to the user. This allows the content management team to continue to manage their page stories on the Storify platform while being able to embed content on the Two Nation Vacation Website.
Content management is made to be even simpler than managing text and images in your favorite word processor.
Administrators are able to fully control the website with powerful interfaces custom built for their needs.

Let's Get it Right
Websites can become a mess if the development approach is wrong. This can happen with any solution in place. If you've got Drupal nightmares, you're not alone. We've been rescuing Drupal projects for over ten years. If you're suffering and wanting to move to a different platform, we can help maximize development costs and build simple tools for robust content management solutions.